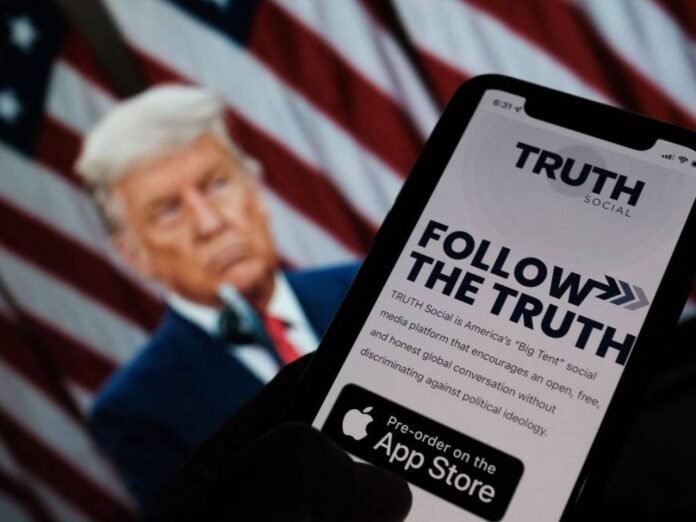 Truth Social, a
new social media venture
of former US President, Donald Trump is set to be launched in App Store today, Monday.
"We are currently set for the release in the Apple App Store for Monday, February 21, 2022.
The launch of the app would herald Trump's return to social media after he was banned by major social giants (Twitter, Facebook and Alphabet), for posting messages instigating and inciting violence in the wake of the attack on the U.S. Capitol by his supporters.
Trump's eldest son, Donald Jr. had last week (Feb. 15) dropped a teaser of the plan when he Tweeted a screenshot of his father's verified account on Truth Social with the caption: "Get Ready! Your favourite President will see you soon!"
The TMTG led by Devin Nunes, a fervent Trump loyalist and a former Republican Representative, is hoping you join a growing list of companies advocating for free speech, breaking free from the alleged stronghold of big giants like Twitter, Facebook and YouTube.
Nunes in an appearance on Fox News 'Sunday Morning Futures with Maria Bartiromo' said:
"This week we will begin to roll out on the Apple App Store. That's going to be awesome because we're going to get so many more people that are going to be on the platform".
Continuing further, he said:
"Our goal is, I think we're going to hit it, I think by the end of March we're going to be fully operational at least within the United States," he added.
According to the screenshots seen by Reuters, the app is now at version 1.0,  an indication that it has reached a level ready for public release.
Two people with access to the test version said as late as Wednesday, it was at version 0.9.
Also, the listing on Apple's App Store indicated that the Truth Social is expected to be released today, Feb. 21, a date that a source familiar with the venture confirmed in January.
But Nunes had recently averred that the app would be officially launched by the end of March.
On if  users would be able to edit their "truths," Nunes replied "not yet", an indication that the app would be akin to Twitter, in the areas of inability to edit posts after publication;  something users on the microblogging site has always complained about
The TMTG executive added more insights on the functionality of the platform as he posited that the next vital feature to be released on the platform will be direct messages between users, also known as DMs.
TMTG is also considering the possibility of allowing users to sign up to receive notifications when others post content with Nunes adding that the ability to block other users on the truth app will be added.
"There will always be block functionality in the app," he wrote.
Truth Social will issue a policy on verified accounts "in the coming weeks," he added.
With the excitement over the app coming to the fore, especially among Trump, supporters, with the details of the app now getting clearer, the  TMTG brand is mostly shrouded in secrecy and is regarded with skepticism by some in tech and media circles.
The Trump Media and Technology Group had in an October 21, 2021 press release announced that it is planning to list in New York through a merger with Digital World Acquisition Corp (DWAC), even as it stands to receive $293 million DWAC holds in trust, in the event that no DWAC shareholder redeem their shares.
TMTG also in December raised a $1 billion committed financing from private investors, even though the money will not be accessible until the DWAC deal comes to light.