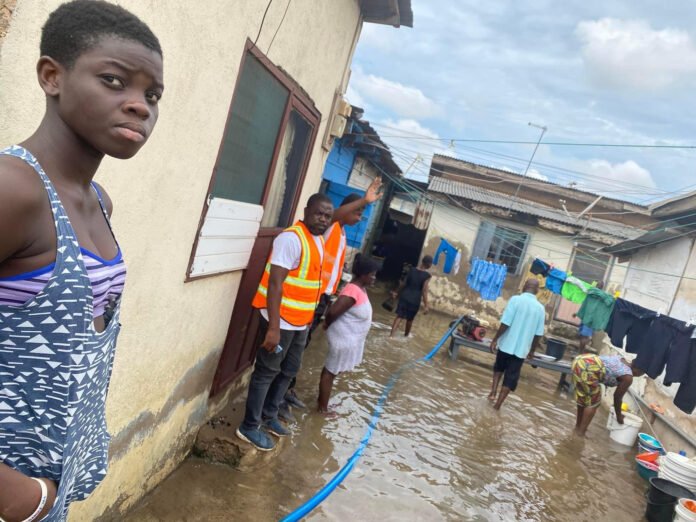 Enoch Amoah woke up at about 2:30 a.m. to find almost everything in his room floating.
Fearing for his life, he waded through floodwaters to a safer spot.
This was the second such incident in three days for Amoah, who lives in the sprawling suburb of Alajo, just outside of Ghana's capital, Accra, where heavy rains have created chaos and desperation.
"This one is very very bad. It is not easy. Everything we have in our rooms is destroyed," he said.
Accra has been hit with a series of flooding between May and June this year, leaving many experts worried about the city's climate resilience if trends continue.
Alajo is completely flooded, leaving roads shredded and dozens of buildings submerged. In recent days, pedestrians could be seen scrambling for safety under shop awnings or inside buildings and containers.
Standing barefoot with just a towel tied around his waist, Amoah said he doesn't know where to go next since he has no relatives in Accra.
"It just came at once. We don't know where to pass. We did not take anything. All our hard earned belongings are gone," he said.
Even though Africa has contributed relatively little to the planet's greenhouse gas emissions, the continent suffers some of the world's heaviest impacts of climate change — from famine to flooding.
Parts of West Africa have been hit with unusually huge amounts of rainfall this year, exposing vulnerabilities in many cities like Accra.
The Ghana Meteorological Agency has put the entire nation on notice for more rains this month.
Felicity Ahafianyo, head of meteorology at the Central Analysis and Forecast Office, said conditions may worsen worse before they improve in southern, flood-prone areas like Alajo.
"We still have to pay attention to the forecasts from the Ghana Meteorological Agency. Per our model charts for the weekend, and the coming week and then up to 28 June, there are still higher chances of rain occurring over most places," she said.
Heavy flooding in Accra has shut down the entire city, as contaminated waterways put people at the risk of diseases such as cholera, typhoid and dysentery.
Disappearing wetlands
One of the root causes of Accra's worsening floods is the influx of property developers who have built commercial and residential properties over wetlands, according to new research by the Institute for Environmental and Sanitation Studies at the University of Ghana.
"Some of the areas under protection as wetlands of special importance, or the Ramsar Sites, we've had encroachment of up to 40% of them," said the institute's founding director Christopher Gordon.
"And we have remote sense imagery which shows the change from vegetated areas to bare and built-up areas. So it is a problem," he said.
Wetlands function as natural sponges that trap and slowly release rainwater, slowing the speed and distribution of floodwaters over the floodplain.
Ghanaian President Nana Akufo-Addo recently directed local authorities to demolish illegal homes built in or near streams and creeks that are impeding the flow of water — but that doesn't address the problem of wetlands encroachment.
Wetlands are critical to mitigating floodwaters, yet the United Nations says they are now disappearing three times faster than forests.
"The worst case scenario is that practically half of Accra will be unlivable – all will be damaged," Gordon warned.
He said efforts should be made to restore most of the depleted wetlands, but said it would be a long and very expensive undertaking.
Investing in climate resilience
Rapid urbanization, inadequate infrastructure and the growth of informal settlements have further jeopardized those who already live in precarious conditions.
Isaac Asomani and his family were forced out of their home in Alajo by the floods and now they are stranded.
Sitting in front of a local pharmacy with his wife and three young children huddled together for warmth, he told EIB News that all attempts to catch a ride to a family member have failed.
"The water has come up to the windowsill," he said. "The road is also flooded. No car, no bicycle, no motorbike, nothing! You can't go anywhere," he said.
Asomani worries he may never be able to rebuild their lives.
"I have no option until the government comes in. My years of investment are all gone. I have no option than to throw the things away," he said.
Flood-related catastrophes have increased by 134% since 2000, according to the World Meteorological Organization.
Experts say African countries need reliable financing options to be able to adapt to the adversities of a changing climate. They recommend urgent investments in capacity development as well as new technologies like early warning systems.
However, there's a gap of $20 billion to reach the $100 billion target for climate finance as pledged by Western countries in the Paris agreement.
African Climate Negotiators at the last climate conference in Glasgow lamented the challenges of making headway on finance. The $100 billion unfulfilled promise represents only 0.4% of the total global finance mobilized to tackle COVID-19 pandemic in less than two years.
The next UN climate change conference in Egypt this year will give Africa an opportunity to leverage and secure a good deal for the region. But African negotiators are concerned that the Russia-Ukraine conflict has diverted attention from the West's climate finance obligations.
Meanwhile, Alajo residents continue to count their losses as more rains are forecasted through the end of June.
"Now we would have to start life afresh and it won't be easy at all because the economy is hard. God should just have mercy on us. We need the rains to grow enough food but not in these proportions," Amoah said.
Source: Ghana/Starrfm.com.gh/103.5FM/Ridwan Karim Dini-Osman