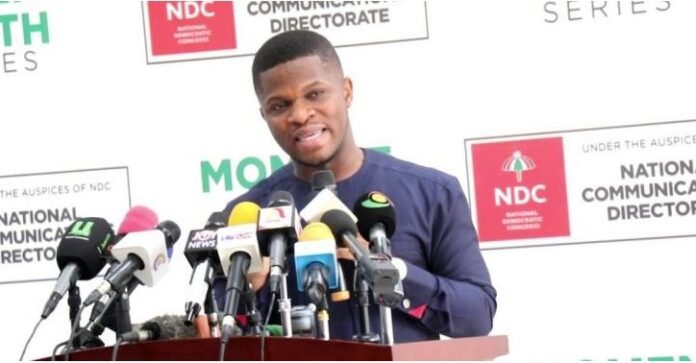 The National Democratic Congress (NDC) has said the government will not be able to meet the new reversed revenue target for the Electronic Transfer Levy (E-levy).
According to the NDC, the Akufo-Addo and Bawumia-led administration has heaped what they described as "many needless taxes" in addition to the increasing prices of fuel on the citizens.
Addressing the media at the NDC Headquarters in Accra on Wednesday, the National Communications Officer for the NDC, Sammy Gyamfi indicated that the taxes on the Ghanaian people have escalated the hardships in the country to unbearable proportions.
"After receiving more than enough inflows totalling about GHS35 billion (equivalent to about $5 billion) to manage and mitigate the impact of the COVID-19 pandemic, and after spending only GHS12 billion of this amount on the pandemic as reported by the Finance Minister to Parliament a few months ago, the government last year imposed a 1% COVID-19 levy on the National Health Insurance Levy on VAT, thereby increasing it from 2.5% to 3.5% and another 1% COVID-19 levy on the VAT Flat Rate, thereby increasing it from 3% to 4%," Sammy Gyamfi stated.
He continued "this obnoxious E-levy which is applied on the capital, savings and already-taxed incomes of Ghanaians defies all the known principles of taxation in Ghana. The stealth tax has significantly reduced momo transaction volumes and has become a great disincentive to digitalization in Ghana as it has forced many people to find smart ways of avoiding the use of digital platforms for financial transactions. Little wonder that today, the government has only realized a paltry GHS93 million as against a projected GHS1.4 billion from the tax handle for the first half of the year 2022.
"Just as we in the NDC argued and predicted during the debate over the passage of the E-levy, it has today become apparent that the E-levy is not the panacea to economic woes of Ghanaians as we were promised by the deceitful and clueless Akufo-Addo/Bawumia government.
"After displaying dismissive and stonewalled stubbornness, the Finance Minister, Ken Ofori-Atta has now revised his over-ambitious end-of-year E-levy target from GHS6.9 billion to about GHS640 million, which we doubt would ever be realized."
Source: Ghana/Starrfm.com.gh/103.5FM