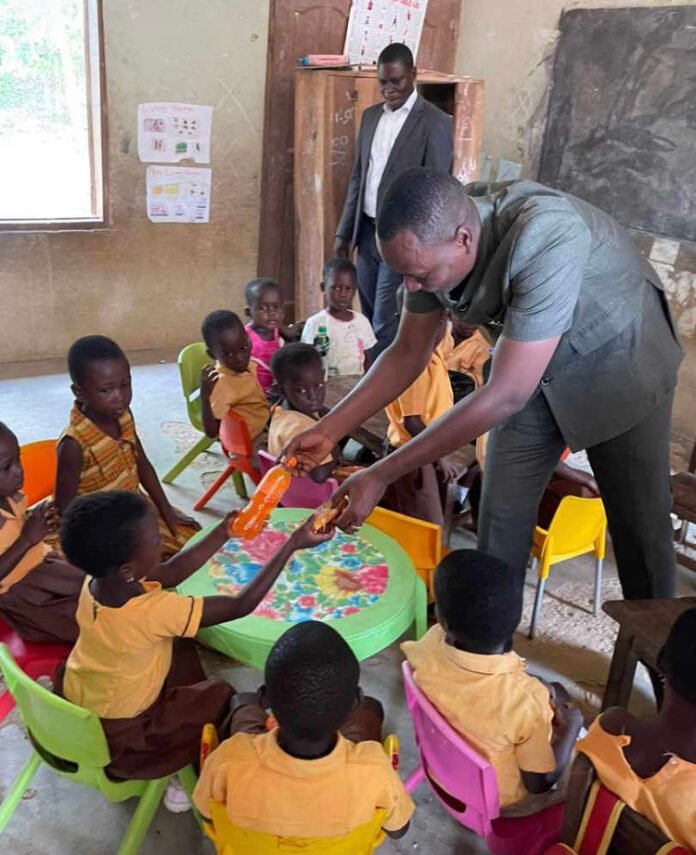 The District Chief Executive Officer (DCE) of Amansie South District, Hon Clement Opoku Gyamfi on Wednesday, welcomed Kindergarten and Primary One Pupils to school.
The visit by the DCE formed part of activities by the Amansie South District Assembly to observe 'My First Day at School', an annual initiative adopted by government to distribute stationery and other items to school children.
The exercise is held annually at the beginning of every academic year to welcome school children back to school, especially those entering crèche and kindergarten (KG) as well as those joining the mainstream school system at Basic One and it's aimed at motivating the children to stay in school.
This year, the DCE was accompanied by the District Coordinating Director, District Director of Education and some management members of the Assembly, who visited Kobriso D.A, Hiamankwa D.A, Nipankyeremiah D.A, Domi-Nyamebekyere D.A and Abuoso D.A Basic schools.
Mr Opoku Gyamfi, who expressed satisfaction with pupils' enrolment and attendance on the first day, encouraged parents to prioritize the education of their children.
He also used the opportunity to inspire these young ones and also listened to some grievances from the schools' management.