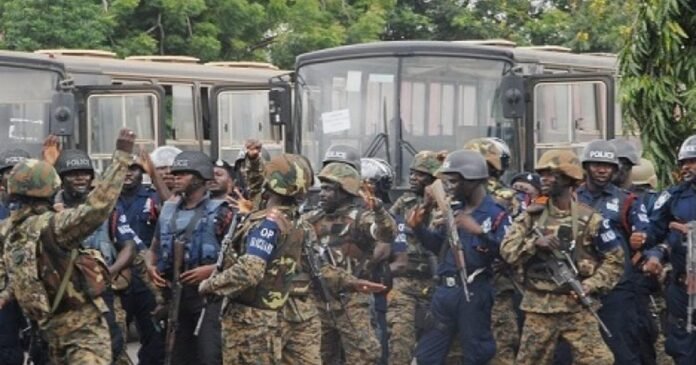 A security analyst, Muftaw Mumuni Muftaw says the government must withdraw the current security personnel and replace them with a new set to overhaul the security plan in Bawku.
The Upper East Regional Security Council (REGSEC) has admonished the two factions in the Bawku conflict against engaging the Military men in a conflict. The call was after the Bawku Central MP, Mahama Ayariga on Wednesday condemned the shooting of some seven persons by military men in Bawku
But the Ghana Armed Forces (GAF) has debunked the accusations of the shooting and killing of locals by the military.
A statement issued by the military high command described the claims as false and unfounded.
The Ghana Armed Forces however explained that its men engaged a group of armed men and neutralized six of them.
Commenting on the conflict on Starr Today with Joshua Kodjo Mensah on Friday, Mr. Muftaw indicated that the situation is more complex and complicated than how people see it.
He explained that the way and manner young people are involved in the conflict by putting out videos and pictures on social media makes it scarier.
"I don't think outside intervention will fix this problem, there have been too many allegations against the security forces there whether true or not. Those allegations seem to be denting the reputation and the goodwill they should have to work there. So if you don't have that kind of situation and your response doesn't sit well it means that you need a complete overhaul of the security architecture of the area.
"Which means that we will need to withdraw what is currently there and replace them with new personnel with fresh ideas, spirit and good will to engage in the area," Mr. Muftaw stated.
He continued: "If you remember there were allegations that some of the security officials could belong to one of the factions in the area. Whether true or not there hasn't been enough work to distort that kind of mindset in the area as they create a sense of goodwill for themselves. So I think that there should be that kind of overhauling in terms of security arrangements in the area."
Source: Ghana/Starrfm.com.gh/103.5FM