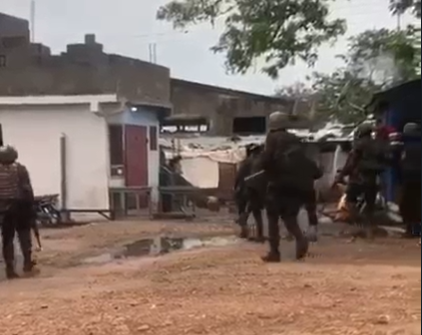 Former Security Advisor to late President Atta Mills, Brigadier General Joseph Nunoo-Mensah has blamed President Akufo-Addo for the military brutalities against residents of Ashaiman on Tuesday, March 7 2023.
Soldiers believed to have come from Michel and Burma Camp stormed Taifa-Ashaiman where a 22-year-old soldier was killed and started brutalizing residents.
The military during its operation in the area also arrested close 180 residents who all have been released from custody.
However, the Ghana Police Service through intelligence work have arrested six persons in connection with the killing of the soldier. They were put before court on Monday March 13 2023 and remanded.
Commenting on the development on Morning Starr with Francis Abban, Mr. Nunoo-Mensah stated that since President Akufo-Addo is the Commander-In-Chief of the Ghana Armed Forces (GAF) the buck should stop with him.
"If they brought the military including the Air-Force and others it wouldn't have been done without the knowledge of the President who is the Commander-In-Chief. The buck wouldn't stop with the Chief of Denfence Staff rather the Commander-In-Chief. So the buck stops with the President who should sit and find out what went wrong.
"The military are bound by civil and military law so the President must sit down and find out whatever went wrong and deal with the matter but the buck stops with him. I will never have done this. It happened in my time and I was fighting my minister and eventually I was sacked. I didn't bother," Mr. Nunoo-Mensah narrated.
He continued: "So what I am saying is that the buck stops with the Commander-In-Chief he should take charge and sort it out not the chief of Defence Staff."
Source: Ghana/Starrfm.com.gh/103.5FM