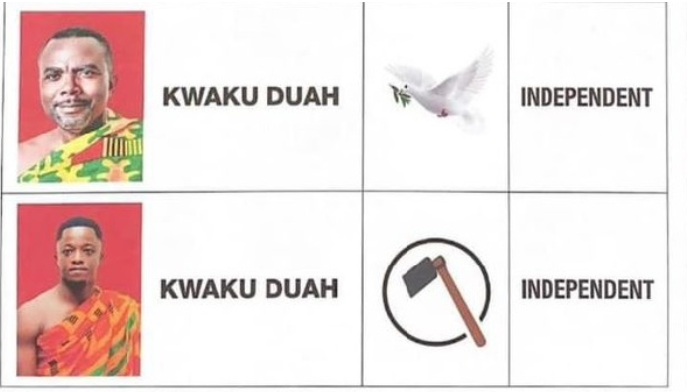 One of the Independent Candidates for the Kumawu Constituency, Kwaku Duah has revealed that the other independent candidate who bears the same name is his nephew and he is contesting him because he may be hungry.
According to Kwaku Duah, who contested the late MP for the area in 2020, he was surprised that his nephew could step up and contest him.
"…He's my nephew, I didn't even know he'll contest me until five days ago. He's a family member, we have extended family at Bodomase and its environs,…Maybe he didn't even know" Kwaku Duah told Starr News Ibrahim Alhassan at Kumawu.
When asked whether his nephew the younger Kwaku Duah didn't know he was going to contest him, he responded: "when the boys are hungry, anything goes."
"…They looked at my picture and wanted to bring somebody, a portrait that will be similar to confuse people, but there's an adage that says the person you know at day time you don't light up to see him at night. The people of Kumawu know me, and fortunately, he's younger than me. I got grey hair and he doesn't have and my symbol remains the bird so they will be able to differentiate," Kwaku Duah added.
Voters in Kumawu constituency in the Ashanti Region are voting today, May 23, 2023 to elect a new Member of Parliament followin g the death of the former MP, Philip Basoah in March 2023.
Source: Ghana/Starrfm.com.gh/103.5FM