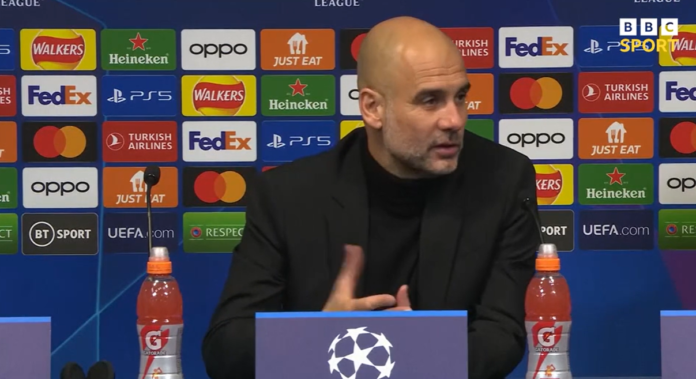 Manchester City's stunning Champions League semi-final win over Real Madrid banished the "pain" of last year's defeat, says manager Pep Guardiola.
City produced a relentless performance at Etihad Stadium to beat Real 4-0 – and 5-1 on aggregate.
At the same stage last year Real overturned a 4-3 defeat in the first leg with a remarkable late comeback in the second before winning the final.
"When the draw was Madrid, I said, 'yeah, I want it'," Guardiola said.
"I had the feeling these last days that we had a mix of calm and tension to play these type of games.
"After 10 or 15 minutes, I was feeling all the pain that we had [with] what happened last season.
"It was really tough, losing the way we lost and I think in the moment we had to swallow poison.
"But during one year we showed how special a group of players these are."
City, who have never won European football's biggest competition, will play Inter Milan in the final in Istanbul on 10 June.
Their unbeaten run at home in Europe now stands at 26 games, stretching back to September 2018.
Forward Jack Grealish told BT Sport: "I don't think a lot of teams would do that to Real Madrid, but when we are all together, and especially playing here, we feel unstoppable.
"I don't know what it is, whether it is our fans or the pitch, we just feel unstoppable. Even in the league we feel no-one can beat us. It is unbelievable."
Source: BBC