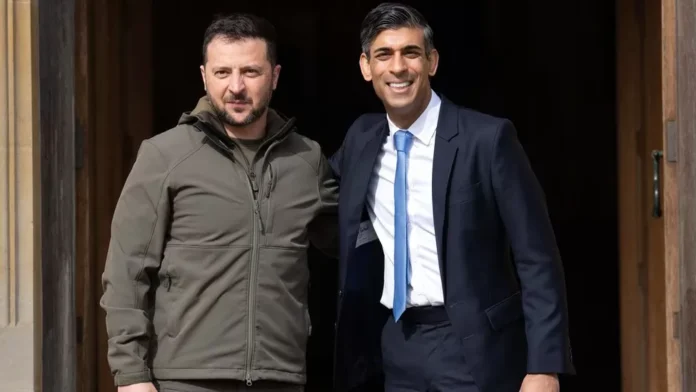 The UK will send hundreds of air defence missiles and armed drones to Ukraine on top of the Storm Shadow cruise missiles announced last week.
The move means the UK is going further than any other country in providing weapons with the potential to tip the battlefield in Ukraine's favour.
Earlier, President Volodymyr Zelensky met the UK's Rishi Sunak as part of his tour of Western allies.
Mr Zelensky said it was important for the West to send fighter jets as well.
But the prime minister said providing fighter jets was "not a straightforward thing", although he did say the UK would form "a key part of the coalition countries" providing that support.
Ukraine is continuing to prepare for a much-anticipated counter-offensive against Russian forces.
Last week, Mr Zelensky told the BBC his country needed more weaponry before it could launch the attack.
On Monday, the Ukrainian president had about two hours of talks with Mr Sunak at Chequers, near London.
He arrived on British soil for a surprise visit after a whirlwind tour of Western Europe that also took in Rome, Berlin and Paris.
Mr Zelensky said Ukraine and the UK were "real partners", while Mr Sunak's spokesman described the meeting as "warm and collegiate".
The Storm Shadow cruise missiles can be used to destroy Russia's positions on occupied Ukrainian territory.
If Ukraine can destroy Russia's command centres, logistics hubs and ammunition depots in occupied territory, then it may prove impossible for Moscow to continue resupplying its frontline troops in places.
This is what Ukraine did so successfully in Kherson last year, forcing the Russians to withdraw almost without a fight. It will now be hoping to repeat the process with the help of Western-supplied munitions.
President Zelensky's repeated calls for Nato to send F-16 jets are being met with delays and obfuscations, for several reasons.
The Ukrainian air force has trained its pilots on F-16s, which the RAF do not use, but such training takes months, not days.
Logistics, maintenance and the need to find suitable runways are all important too.
Finally, there is the question of escalation. Nato is struggling to balance giving Kyiv the maximum support it can, without getting directly drawn into this conflict.
If Nato does end up sending F-16 warplanes, however old they may be, then that, in Moscow's eyes, constitutes a major provocation by the West.
Mr Zelensky said he discussed the supply of Western fighter jets with Mr Sunak.
New jets were a "very important topic for us, because we can't control the sky", the Ukrainian leader added.
"We spoke about it and I see that in the closest time you will hear some, I think, very important decisions, but we have to work a little bit more on it," he said.
The UK has no plans to send fighter jets to Ukraine, according to the prime minister's official spokesman.
But No 10 said elementary training for Ukrainian pilots would begin this summer, along with British efforts to work with other countries on providing F-16 jets to Ukraine.
Source: BBC