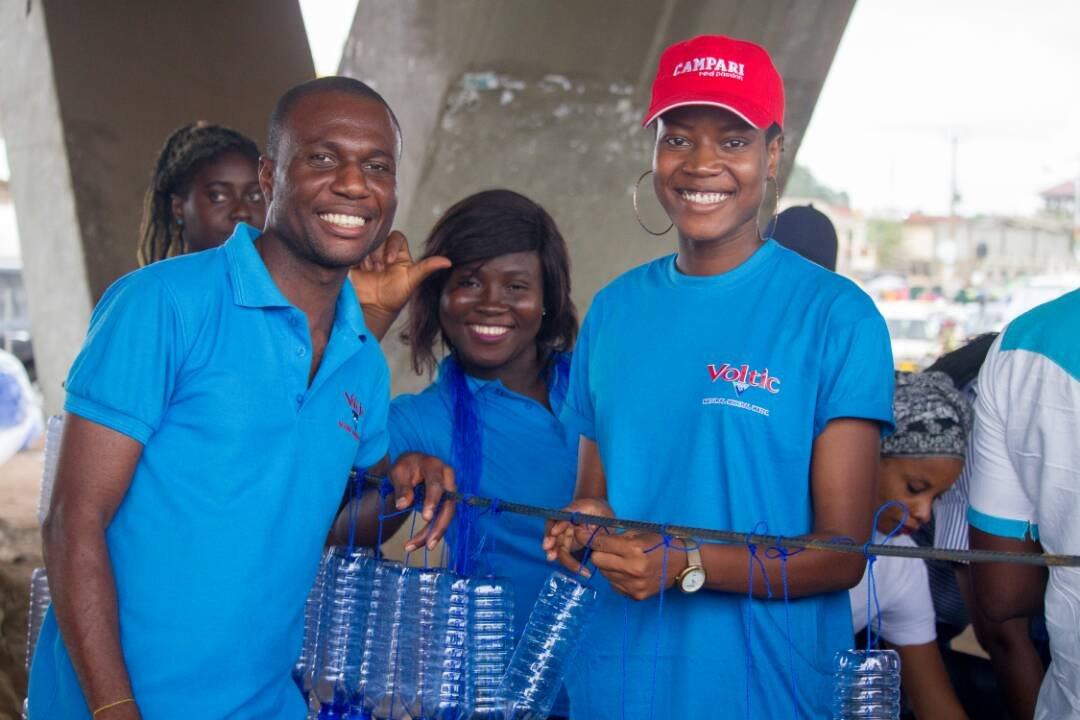 In commemoration of World Environment Day, employees of Voltic (GH) Limited (Voltic) joined the Ga North Municipality and other Volunteers from Mckingtorch Creatives to beautify the Ofankor Roundabout using plastic bottles. The event forms part of a wider project to sensitize communities and introduce the alternative uses of plastic and the need to prevent plastic pollution.
The event on the theme, "Voltic Beats Plastic Pollution" saw about 120 volunteers fabricate a  Fence around the Ofankor roundabout; create  Christmas tree, Flower Pots, and Garden Chairs all  using plastic bottles.
Voltic understands that waste management is a shared responsibility for all those in the value chain but most importantly, the mindset of consumers and the need for change if the nation is to win the war against plastic waste.
Ms. Joyce Ahiadorme, Public Affairs and Communication Manager of Voltic noted that, "To beat plastic pollution, we must first change our mindset about waste.  Understand our role in sustainably preserving the environment for human life and businesses to thrive. Plastic only ends up as waste if we fail to recognize and utilize it is as a resource. At Voltic, we are committed to managing our post -consumer waste. This project will begin our community and school programme in the GaNorth Assembly. We hope this beautiful work appeals to our hearts to beat plastic pollution"
The project wasdone in collaboration with the Ga North Municipal Assembly and MckingtorchCreatives, a social enterprise in Accra that uses plastic waste to create art and products.
Voltic employees joined the members of the community and other volunteers for the exercise which is the first of its kind in Accra. This was preceded by a "Return the Bottle Challenge" where employees returned their used bottles from home towards the project which was carried out with over 20,000 bottles collected.
Addressing volunteers and the community, Mrs. Moira Nancy Ewa, Municipal Coordinating Director of Ga North Municipal Assembly stated that, "this initiative by Voltic is very laudable and the Assembly is proud to be the first beneficiary. We look forward to engaging more with Voltic to find innovative solutions for plastic waste recycling. We call on other manufacturers to partner Voltic as together we create a safe environment free from plastic pollution".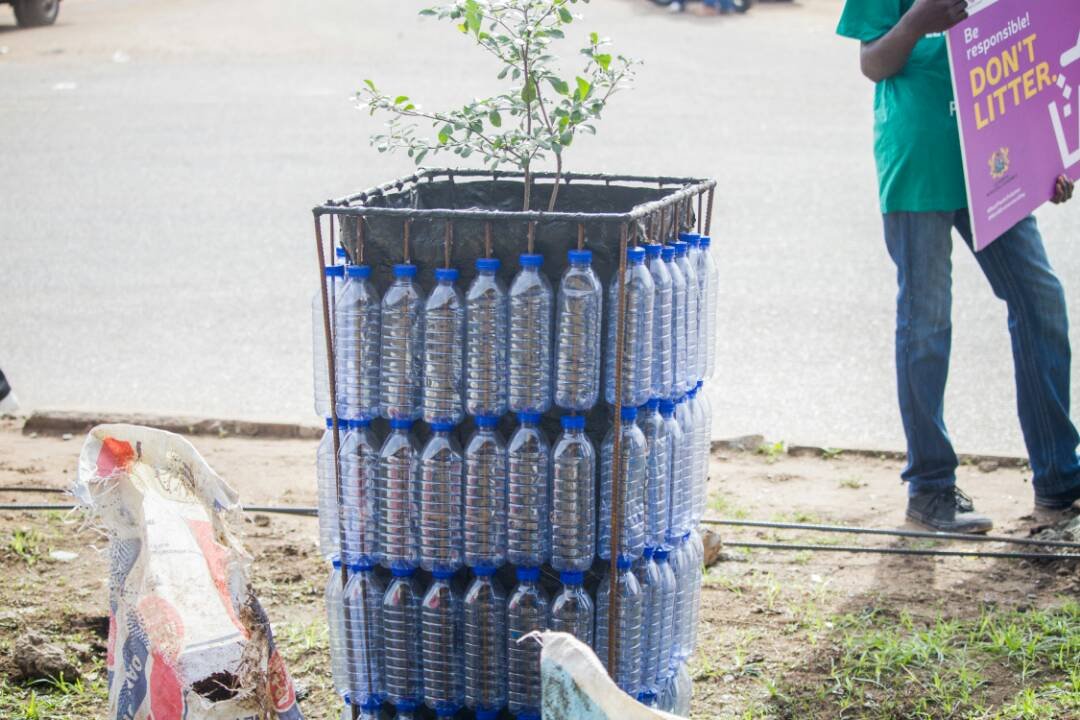 CEO of MckingtorchCreatives, Makafui Awuku noted that, "essentially with this project, we hope to use plastic waste to create sustainable waste management solutions. We look forward to curb the way for the creation of more beatification projects and public spaces in Ghanaas we fight pollution in the waterways, gutters and our environment for a healthy life.
Voltic prides itself as a business committed to providing the best quality natural mineral water and beverages to refresh Ghanaians.
To fulfill its sustainability goals while refreshing Ghana every day, Volticis committed to three (3) key sustainability Priorities termed "The 3Ws". It includes women empowerment, water stewardship and waste management.
Currently Voltic in partnership with other 7 companies have created Ghana Recycling Initiative By Private Enterprises (GRIPE) with a mission to integrate sustainable waste management solutions.
Source: Ghana/Starrfmonline.com/103.5FM