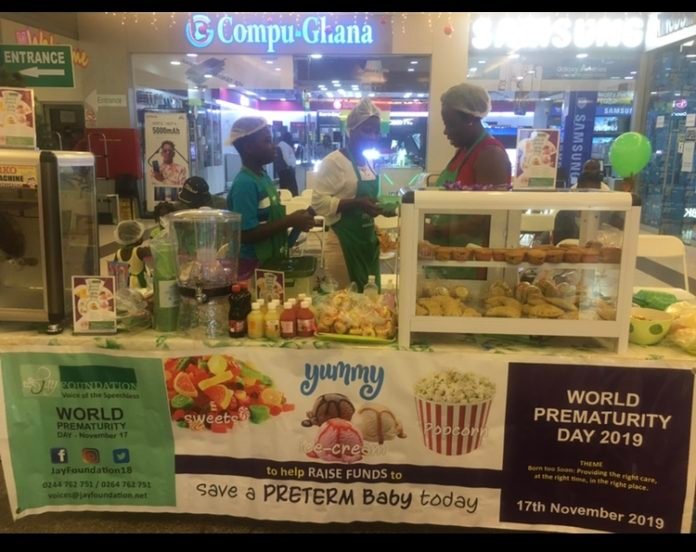 The Jay Foundation, an NGO dedicated to supporting pre-term babies across the country has joined the rest of the world to mark the "World Prematurity Day" November 17.
The organization as part of activities to mark the yearly event held a fundraising event initiated by children affiliated to the organisation, by means of selling snacks and drinks at the Marina Mall in Accra.
Proceeds from the sales will be used to purchase oxygen concentrators and its related equipment for Neo-Natal Intensive Care Units (NICU) of hospitals across the country.
The Jay Foundation has in the past year donated items worth thousands of cedis to the NICU of the Tema General, Korle-Bu, Nsawam General, Shai-Osudoku District and Keta Hospitals.
These donations have affected the lives of over 300 pre-term babies and mothers as well as over 70 Nurses and staff of these hospitals.
Speaking to starrfm.com.gh, Head of the organization Naa  Kuorkor Mayne-Eghan  explained that "basically world prematurity day was created for awareness on premature birth and then to help babies in such situations. And as you know the jay foundation has been going round helping babies and mothers in the country from the beginning of the year."
"We came up with the kid's project for them to feel involved as well as raise awareness and funds to procure oxygen for various hospitals," she said.
She indicated that "the funds that we are going to raise from this will be used to buy oxygen and its related equipment for babies. We started on the 25th of October. We got a lot of donations and we got a lot of people buying our stuff. But mostly the things are cost intensive and so you end up making smaller margins so what we are doing on the side is talking to a few corporate entities."
She added "we have also had some benevolent people who have donated in advance when we sent them the list of items with the pricing. So we are looking at buying an oxygen concentrator for every hospital which is about GhC 20, 000 and then filing of the oxygen and its medical equipment. We are looking at a budget of almost GhC 50, 000 for world prematurity day."
Itinerary for the Celebration
Sunday 17th
1. Special cleaning of Korle Bu NICU
2. Special cleaning of Tema General NICU and KMC Ward
3. Donation of oxygen flow meters and pulse Oximeters to Korle Bu
Tuesday/Wednesday 19/20th
4. Filling of gas cylinders of the Keta Municipal Hospital
Friday/Saturday 22/23rd
5. Donation of oxygen flow meters and pulse Oximeters to Cape Coast Hospital.
Source: Ghana/Starrfm.com.gh/103.5FM