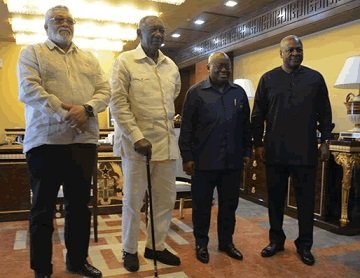 The Member of Parliament for North Tongu, Samuel Okudzeto Ablakwa, has refuted claims that former Presidents John Mahama, John Rawlings and John Kufuor endorsed the aborted December 17 referendum that sought to elect MMDCEs on a partisan basis.
"I have spoken to our flagbearer and he says that what they discussed was electing MMDCEs for which there is a broad-based consensus. There was no commitment towards article 55(3) amendment and introducing partisan politics at the local level, there was no such consensus.
"Former President Rawlings did not endorse, Former President Kufuor did not endorse and Former President Mahama has not endorsed so it is really strange that anybody will be suggesting that our former presidents achieved consensus," the ranking member on parliament's Foreign Affairs Committee told Starr FM's Parliamentary correspondent, Ibrahim Alhassan.
The President in a televised address Sunday announced the cancellation of the referendum over what he says is lack of consensus.
"Fellow Ghanaians, it is of deep regret that I have given instructions to the minister for local government and Rural development who will spearhead the process with commendable vigour and dynamism on behalf of the government to abort the process and see to the withdrawal of the bills for the amendment of the constitution both in respect of article 24 (31) and Article 52 (2)," he said.
The NDC had always campaigned on a NO vote and Mr Ablakwa in a Facebook also congratulated the NDC for their position.
Mr Ablakwa has also called on the government to disclose how much was spent on the aborted December 17 referendum.
"As transparency and accountability demands: can Government now disclose how much it has spent on this abortive referendum thus far; and steps being taken to prevent any more financial loss to the state, especially as we are aware printing of ballot papers and other ancillary expenditures had long commenced," Mr Ablakwa wrote in a Facebook post.