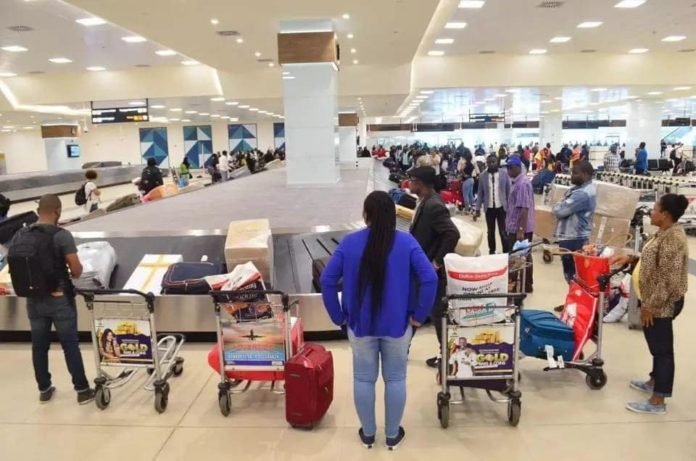 The Minority in Parliament has rejected claims by Aviation Minister Joseph Kofi Adda that the Ghana Airport Company is saddled with huge debts.
The minister in a reaction to agitations by staff of the company against attempts to privatize some aspects of the company told the media a strategic investor is been sought to rescue the GACL from its debt accumulation.
Speaking to the media, Minority spokesperson on transport Governs Kwame Agbodza argued the Mahama administration left a very vibrant company.
The Adaklu MP consequently warned the Turkish based investors any future NDC government will cancel any deal they enter into with government regarding management of the Ghana Airport Company since it's not in the interest of the country.
He said, "the minority is extremely against the attempt by government to pretend that Ghana Airport Company is in debt because of Terminal Three, that cannot be true."
He explained "in fact, we are not even aware that Ghana Airport Company has missed repayment of any of the loans it contracted. In fact, at many of the ministry's interactions with the committee on roads and transport, they made us aware that they are able to pay the loans contracted to build the terminal three."
"First of all, any businessman doing any negotiations on the basis of a strategic investor, you better watch what you do with your money because it may be likely that the next government may see that in a different light."
The lawmaker went on "why do I say this, we have already done the investment into our airports. Ho is completed, it's not in use, Kumasi is under construction, we've taken the loan already, Tamale is under construction, Wa has been constructed, Kotoka itself is over-capacitated."
"I'm saying that Terminal Three could take five to seven years to reach its own full capacity. Terminal Two recently upgraded is not even in use. They only handed over terminal one to McDan and nobody knows what he is even doing there. So, what exactly is the strategic investor bringing, is it to come and manage it so that maybe the ministers and all the directors are not capable of managing it?" he quizzed.
Mr Agbodza insisted "I don't think at this stage of Ghana's life we needed a strategic investor to come and manage an airport when we can find or own money and build it, we don't need anybody to manage it for us."
"Whoever is doing the negotiation, we are told there is no agreement yet, so whoever is involved in this strategic discussion please watch what you are doing because it may not be in the interest of the people of this country and they may take a second look at it when government changes," he warned.
Source: Ghana/Starrfm.com.gh/103.5FM