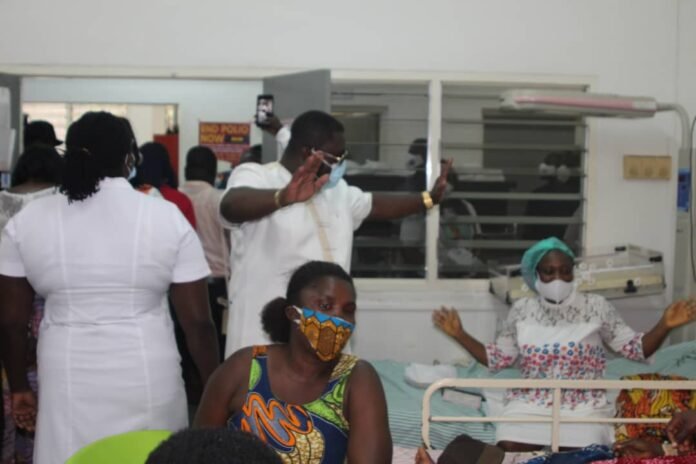 A Philanthropist, Richard Owiredu Wadie, has paid the medical bills of twenty (20) nursing mothers who were struggling to pay their bills at the Eastern Regional Hospital, Koforidua.
A total of Ghc11,200 was paid.
The Philanthropist, who is also a civil and road contractor by Profession, has through his nongovernmental Organization – KABAKA Foundation also donated a truckload of items including medical equipment such as fetal Doppler ultrasounds and dental materials as well as large quantities of soaps, detergents, Milo, baby diapers, soft drinks, bottled water among others to the Hospital to take care of patients particularly Pregnant women and their babies at the maternity wards.
Mr Richard Owiredu Wadie Chairman of the Foundation who is an awardee of "2020 Forty Under 40 Award Scheme" has been donating and paying medical bills for the poor and needy at the hospital every year as part of his birthday.
The intervention has been helpful as many patients particularly mothers who delivered through caesarean or suffered complications during childbirth were struggling to pay huge bills issued to them.
Kathlyn Nyassingbe, Acting Matron at Obstetrics and Gynaecology Department at the Eastern Regional Hospital,  described as troubling the number of women discharged after delivery but unable to leave due to inability to settle their medical bills.
"It troubles our hearts when a mother is discharged after delivery but because she is unable to pay her bills still stays in the hospital. So what he has done means over 20 women will be going home today because their bills have been paid. Those with high medical bills are those who underwent Caesarean delivery. The drugs use are expensive. So we are appealing to others to follow suit to intermittently come to the aide of poor mothers who struggle to settle their bills"
The inability of patients to pay medical bills remains a challenge at the Eastern Regional Hospital. For instance, the Hospital lost about Ghc350,000 in 2018 to about 75 poor and needy patients who could not pay their Medical bills hence absconded while some 212 signed undertaken to pay their bills in instalments.
The Acting Matron, therefore, commended KABAKA Foundation for coming to the aide of the nursing mothers some had delivered twins.
Some of the beneficiary mothers were thankful to KABAKA Foundation Chairman but appealed to government to reintroduce the free maternal healthcare policy.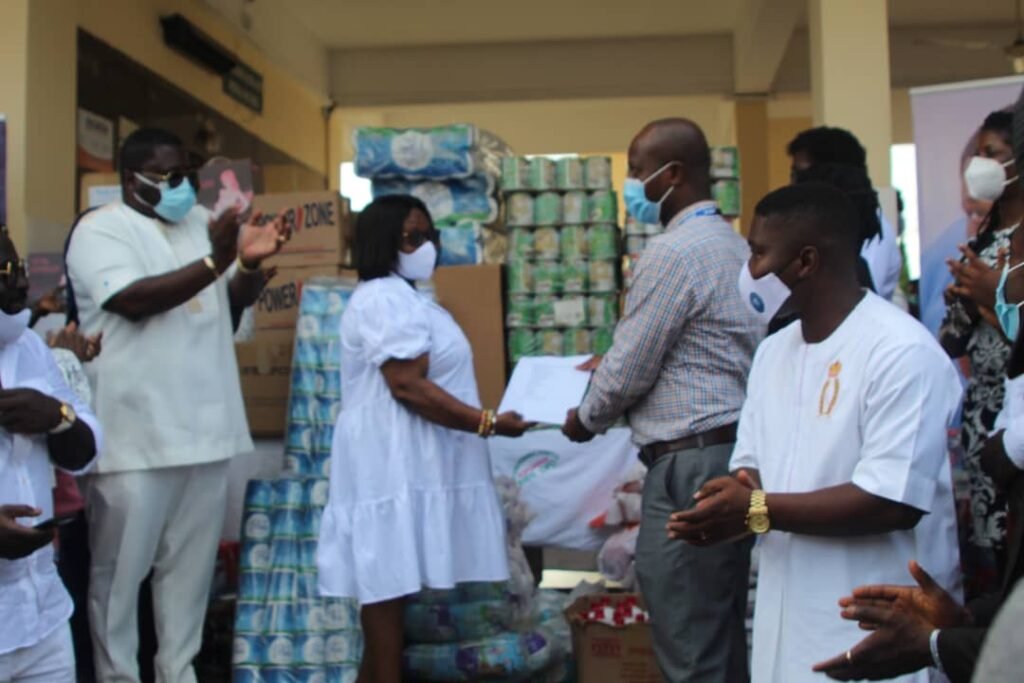 The Medical Director of the Eastern Regional Hospital Dr. Arko Akoto Ampaw, was grateful ."We are very grateful for the items we have received. Initially, we thought the items were just going to support the mothers in the Maternity unit however we noticed that it included items that are directly beneficial to the hospital including fetal doppler and dental materials for the dental unit".
The donation was climaxed with sharing of hot meals and soft drinks by the Philanthropist and Wife to pregnant and postpartum women at the Obstetrics and Gynaecology Department of the hospital.
Source: Starrfm.com.gh/103.5fm/Kojo Ansah.