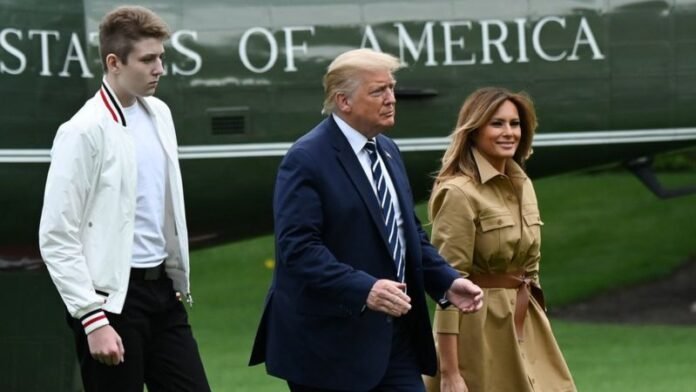 US President Donald Trump's 14-year-old son Barron contracted coronavirus but has since tested negative, First Lady Melania Trump revealed.
Mrs Trump said her "fear came true" when Barron tested positive for Covid-19.
But, she said, "luckily he is a strong teenager and exhibited no symptoms".
Both the president and first lady also tested positive for coronavirus – as well as other White House staff – but have since recovered.
Later at a rally in Des Moines, Iowa, Mr Trump said: "He [Barron] had it for such a short period of time.
Opinion polls suggest Mr Trump is trailing his Democratic White House challenger Joe Biden barely three weeks before the 3 November presidential election, but polling is close in several key states.
Mr Biden did not have any public campaign events on Wednesday, but held a virtual fundraiser and delivered taped remarks to an American Muslim association. The Biden campaign announced that it had raised a record-breaking $383m (£294m) in September.
The Democrat was expected to spend much of the day preparing for Thursday, when he and Mr Trump will take part in rival televised town hall-style events.
The candidates have struck different tones on the pandemic, with Mr Trump downplaying its severity and Mr Biden criticising him for not encouraging Americans to wear masks and social distance.
What did Mr Trump say?
The president said his son had had a mild case of the virus.
"I don't even think he knew he had it because they're young and their immune systems are strong and they fight it off."
He added: "Barron is beautiful and he is free."
The president cited his son's recovery as a reason why American schools should reopen as soon as possible, a move opposed by teachers' unions who fear their members could be infected by students.
He told the crowd: "Barron's tested positive. Within, like, two seconds it was Barron is just fine now. He's tested negative, right?
"Because it happens. People have it and it goes. Get the kids back to school."
Source: BBC