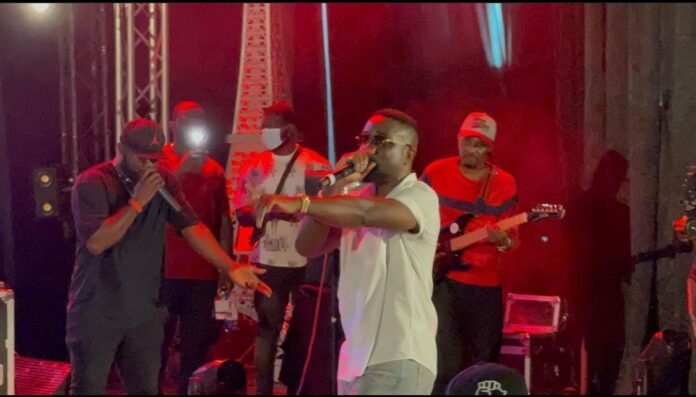 Last night was all bliss, excitement, and energy as thousands turned up for the maiden 'Paris In Accra' concert held at Alliance Francaise, in Accra.
Following weeks of publicity and vigorous build-up to the event, Accra stopped to witness the union of two cities using entertainment, and the testimonies on social media cannot be over-emphasized.
Billed to perform on the night, Sarkodie, Stonebwoy, Becca, Kwabena Kwabena, Gasmilla and Fameye from Ghana, Passi and Orti from France, none of these acts delivered below par.
Scenes from last night's PARIS IN ACCRA concert @sarkodie @TheRealBolaRay @annesophieave pic.twitter.com/pawzcgi945

— Starr103.5FM (@Starr1035Fm) November 6, 2021
Churning out back-to-back hit records, both French and Ghanaian fans alike were on their feet throughout the show.
Present at the event was EIB Network's CEO Bola Ray who was the host of the show, as well as french Ambassador to Ghana Anne Sophie Avé.
Midway into the show, Bola Ray suggested a reverse version of the event dubbed 'Accra In Paris' that would be held in Paris, France, and Sarkodie as well as the French Ambassador pledged their utmost support for the initiative.
The event will surely go a long way to engender the already existing unity between both countries, following the massive work of the ambassador since her entry into Ghana.
Scenes from last night's PARIS IN ACCRA concert

And @stonebwoy did not disappoint

Host: @TheRealBolaRay Cc @annesophieave pic.twitter.com/MUEXtGE6pb

— Starr103.5FM (@Starr1035Fm) November 6, 2021
Source: Ghana/Starrfm.com.gh