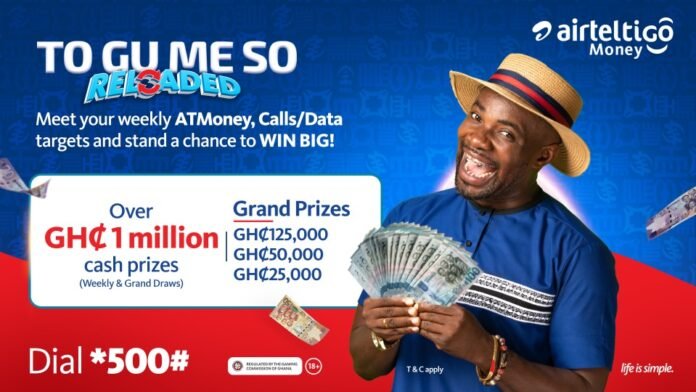 AirtelTigo is set to reward its customers with over GHS 1,000,000 (one million Ghana cedis) in the "To Gu Me So" Reloaded Promotion launched today.
To Gu Me So Reloaded is a target-based promo designed to reward customers with weekly cash prizes. The promotionwill run from 6th June through to middle of September 2022and thousands of customers across the country will be rewarded weekly.
Unveiling the promotion, Chief Marketing Officer at AirtelTigo, Atul Narain Singh said, "Last year, with the introduction of AirtelTigo "To Gu Me So", we were able to make the lives of our customers better by showering on themlots of cash, call minutes, and data. This is evident in the testimonials we received from customers all over theCountry."
He continued, "based on feedback from our customers and the success of last year's To Gu Me So, we are excited to introduce to you today, a reloaded version of the promo dubbed "AirtelTigo To Gu Me So Reloaded" with the aim of rewarding thousands of customers in the course of the promo.
Expounding further on how the promotion works, AbubakariHalidu, Chief Sales Officer at AirtelTigo said, "Customerswill be assigned two weekly targets: One for AirtelTigoMoney (ATMoney) and another for Voice/Data Usage. Customers who achieve the ATMoney target will receive ten(10) tickets to enter the weekly draw while achieving their Voice/Data targets will get them five (5) tickets. Customers achieving both targets will get twenty (20) tickets to enter the weekly draw. All the accumulated tickets during the promo will be added to the grand prize draw to increase the chances to the grand draw
He noted that customers must dial *500# to check their targets, do more ATMoney: Cash transfers, payments & cash withdrawals, make more calls, browse more, buy more bundles and subscribe to Value-Added Services to meet their unique targets to earn tickets to enter the weekly and grand draw.
"It is important to note that this promo is for AirtelTigoprepaid customers who are 18 years or above.Since this promo is based on chance, we are working with the Gaming Commission of Ghana to provide a reliable and transparent method of selecting winners in weekly and grand draws, "he reiterated.
The AirtelTigo To Gu Me So Reloaded Promo will reward customers every week with Cash Prizes till the end of the promo in September when the Grand Cash Prizes of GHs125,000, GHs50,000 and GHs25,000 would be rewarded to the Overall Winner, First and Second Runners-Ups respectively."