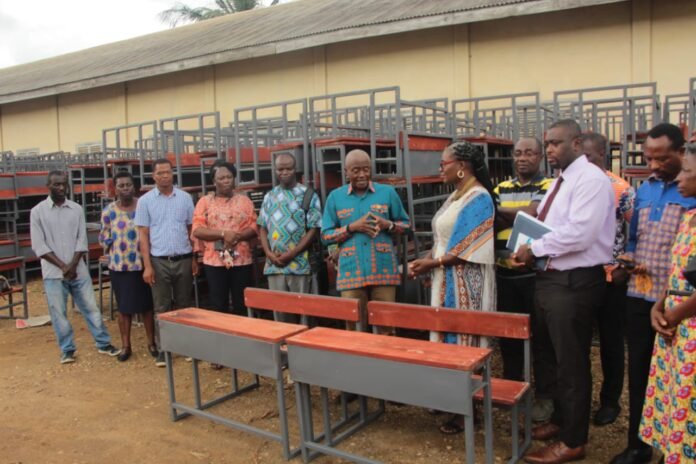 The Abuakwa North Municipal Assembly is making efforts to attain first single-digit aggregate in Basic Education Certificate Examination (BECE).
No BECE candidate in public basic schools in the municipality has secured single digit aggregate since the establishment of the municipality in 2018 after it was carved out from East Akyem Municipality.
One of the challenges identified by the Municipal Education Committee is inadequate desks in public basic schools which created discomfort among pupils in classrooms making them lose concentration during teaching and learning.
The Municipal Assembly in a conscious effort addressed the challenge with the distribution of close to 2000 student desks to public basic schools in the municipality.
Speaking to Starr News on the sidelines of the distribution of 600 desks to the education directorate, the Municipal Chief Executive for Abuakwa North Alhaji Umar Bodinga said, having diagnosed and identified inadequate furniture as a major problem in basic schools the assembly has addressed the challenge head-on.
"If you check the government schools, the quality of the teachers. They have been trained. They are professionals. I see no reason why the private schools which most of their teachers are Secondary School graduates but when the results come they perform better than where you have trained teachers" the MCE said.
He continued " so I set up a team as Municipal Education committee to look into it and they gave me three things classified under government responsibility, parents and teachers. So I told them I have absorbed the government responsibility. The basic thing they ask is furniture if furniture then myself and the MP we are going to work on it. In Abuakwa North right now you won't find any basic school that has shortage of furniture"
Alhaji Umar Bodinga stated that, teachers in the municipality are also going to be motivated by the assembly.
"I am going to motivate them, I need the background information of the teachers and the school. The hardworking ones who are sacrificing through me and the assembly we are going to motivate them and give them some token as recognition".
The Municipal Director of Education, Abena Gyamera told Starr News that, though performance of the Municipality in BECE has improved marginally from 16th to 12th position out of 33 districts and Municipalities in the Region, the municipality is yet to achieve a single-digit aggregate.
She is however hopeful that with the intervention put in place including supply of furniture, infrastructure improvement, commitment to motivate teachers, and support from JICA, the single-digit aggregate target will be achieved in this BECE which will be written in October.
"We are encouraging the teachers to give off their best so that we now get single digit in the municipality " Abena Gyamera, Abuakwa North Municipal Education Director.
Source: Ghana/Starrfm.com.gh/Kojo Ansah