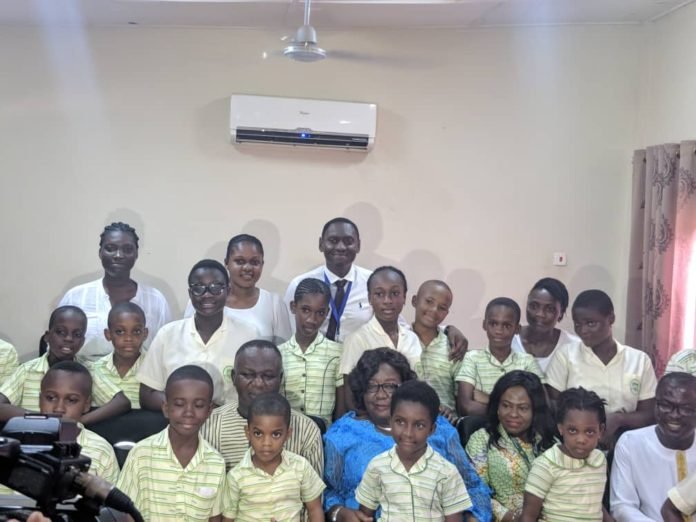 The deputy Ashanti regional minister Elizabeth Agyeman has expressed need for young girls to be deliberately educated and groomed to take up leadership roles in their formative years.
She made the call while addressing young children of the Abofra World School when the school chose to celebrate her with citations and a love parcel as she marked her platinum anniversary a day after Mothers' Day.
It was a time for mentoring while celebrating a state leader when the septuagenarian had the young children read citations about her work in education and health during her twelve years in parliament and her two years leadership as deputy regional minister.
The children also handed over a love parcel to Madam Elizabeth Agyeman whose passion for service, has earned her the accolade, the 'Peoples' Mother'.
Expressing her gratitude, Elizabeth Agyeman emphasized the need for education to be given prominence to raise responsible female leaders to follow in her stead.
"I am surprised because I have never been to that school before and I don't know why they chose to come to me and I will say thank you to them for doing this for me. Some time ago women did not get the opportunity to go to school but now they are in school and learning very hard. If they continue studying hard they can even become presidents, vice presidents, nurses and teachers," she commended.
The headmaster for the Abofra World School Bernard Baffour Gyawu told Ultimate News' Ivan Heathcote – Fumador, the gesture was to afford the children the opportunity to model their lives after worthy national leaders.
He indicated, "Yesterday was Mothers' Day and the school needed an icon for the kids to look up to and we finally settled on the peoples mother. We all know what she is doing and how she has been a mother to everybody. She inspires and it's a privilege that our kids have learnt something from her and know they can be someone like her in future."
The Ashanti regional minister Simon Osei Mensa used the occasion to send a strong message to children in the region, to eschew indiscipline – a trend he said was gaining roots in the Ashanti region.
"We are highly appreciative for what you have done for Peoples' Mother for recognizing her and presenting to her an excellent heart touching citation. To the children one problem we have in society is indiscipline at almost all levels. Charity begins at home and it's now that you have to learn to be disciplined," he advised.
The day also saw several Municipal and District Chief Executives, visit Madam Elizabeth Agyeman to celebrate with her and wish her the best of her leadership in the country as she marked her 70th birthday.
Source: Ghana/Starrfm.com.gh/103.5FM/Ivan Heathcote – Fumador