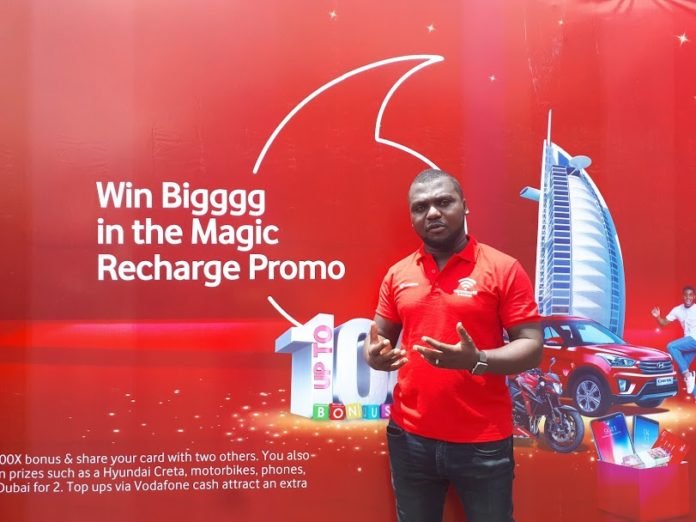 Vodafone Ghana has reiterated its commitment to serving its existing and prospective customers with the best, by launching the Vodafone Magic Recharge in the Ashanti regional capital, Kumasi.
According to the telecom operator, the Vodafone Magic Recharge gives subscribers the chance to win from between 3 and 100 times bonus in recharge of Ghc2.00 and above.
The recharged card can equally be passed on to two other persons to enjoy same value.
Speaking to Ultimate Business on Friday at the central business district, Mass Segment Manager at Vodafone Ghana, Dennis Awuah Duah mentioned the latest promo is a confirmation of the network's dedication to its customers.
"We're launching a very exciting promotion called the Vodafone Magic Recharge today. This promo allows you the customer to enjoy between 3x and 100x bonus on all recharges of Ghc2.00 and above; so there is a real magical feeling about this promo," Duah said.
"Another exciting part of this promo is that a customer can pass the card on, to two other people who can also receive bonuses on the face value of the card when they recharge."
Duah added: "We're running this Vodafone Magic Recharge for the next 90 to 120 days and we're hopeful that our customers will enjoy, get more airtime and get more data to reach their friends and family across Ghana."
The network is further rewarding customers with amazing prizes including cars for sticking to this new initiative.
"There are also other exciting prizes up for grabs as well; there is a Hyundai Crata, trip to Dubai, motorcycles and other random prizes customers stand to win. It is pretty easy, all our customers have to do, is to dial *561# and join the promo."
Touching why it was imperative for Vodafone to run such a promo, the Mass Sement Manager hinted: "Ghanaians have come to trust Vodafone as we being innovative and the most technologically advanced company in Ghana. We've done these promos in the past, we did 10x, Ekiki Me and we saw the excitement with our customers."
"Magic Recharge is also meant to reinforce that aggression Vodafone has on the market and ensure that customers get the best value than any other telco can provide in the country."
"The future is exciting and we ask are you ready for it? We launched 4G not long ago and giving customers the best and real 4G experience so our customers should rest assured," he stated.
Source: starrfm.com.gh/Patricia Ama Bonsu