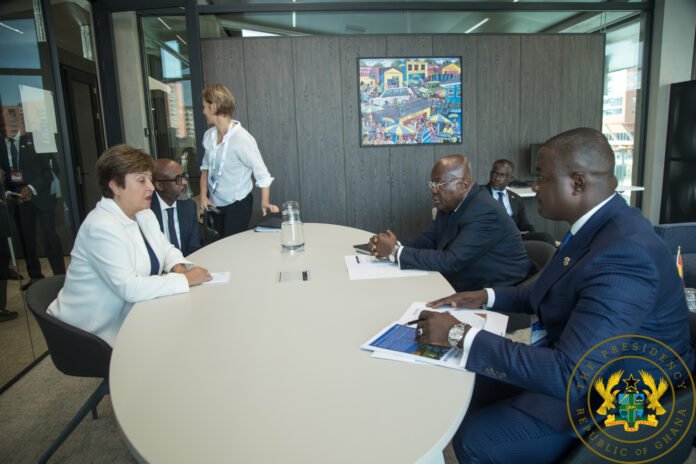 International Monetary Fund (IMF) boss Kristalina Georgieva has assured Ghana of a financial support programme by the end of the year.
She gave the assurance in a closed-door meeting with President Akufo-Addo on the sidelines of the Africa Adaptation Summit, in Rotterdam, Netherlands.
"We understand the urgency, and we will move as quickly as possible," she told the Ghanaian President.
She also noted the Ghanaian government cannot be blamed for the financial crisis the country is currently going through.
"First the pandemic, then Russia's war in Ukraine. We need to realize that it is not because of bad policies in the country but because of this combination of shocks, and, therefore, we have to support Ghana…we have to support Ghana because your strength contributes to the strength of your neighbours; it contributes to a stronger world".
Goldman Sachs warns
In August Goldman Sachs warned the Ghanaian Government against delaying talks with the International Monetary Fund (IMF) for a bailout.
According to the American-based research body, any further delay in talks with the IMF will be dire for the Ghanaian economy.
"In our recent trip to Accra, one notable observation was the authorities' perceived lack of urgency in concluding programme talks with the IMF (with locals expecting a 6-9 month timeframe), despite intensifying BoP, FX and fiscal financing pressures.
"We have argued that a delayed conclusion creates the risk of further deficit monetization by the BoG, Cedi depreciation and a decline in FX reserves, implying that the macroeconomic outlook may deteriorate further in the near term," Goldman Sachs Research warned.
The Research body continued: "That said, we think that these factors — namely currency pressure and the inability to finance the deficit — may serve to increase the sense of urgency and ultimately prompt the authorities to accelerate IMF talks. In this regard, we will look for any update from BoG on IMF talks in its communique following tomorrow's unscheduled rate-setting meeting."
Source: Ghana/Starrfm.com.gh/103.5FM